The strength of the column lies in its simplicity. By choosing azobé hardwood, the column remains good for at least 25 years untreated, with ground contact and moisture not being a problem. As a result, the possibilities are endless.

The column is made up of boards 2.2 cm thick. You can simply drill into azobé wood with a standard spade drill bit or hole saw. This allows holes to be made everywhere, which are necessary for the cable inlet of the device to be mounted. As azobé is one of the hardest woods around, it is essential to pre-drill screws first. Choose a clearance of 1 mm for this. So for a screw with 5 mm diameter, pre-drill with a 4 mm drill bit. The device will be simple and rock-solid to mount at any point on the column.

There is an internal space of 5.5 x 20 cm in the column; the wiring can easily be fed through here. Because the column does not extend all the way to the base, while it is partly buried the wiring can still be easily installed.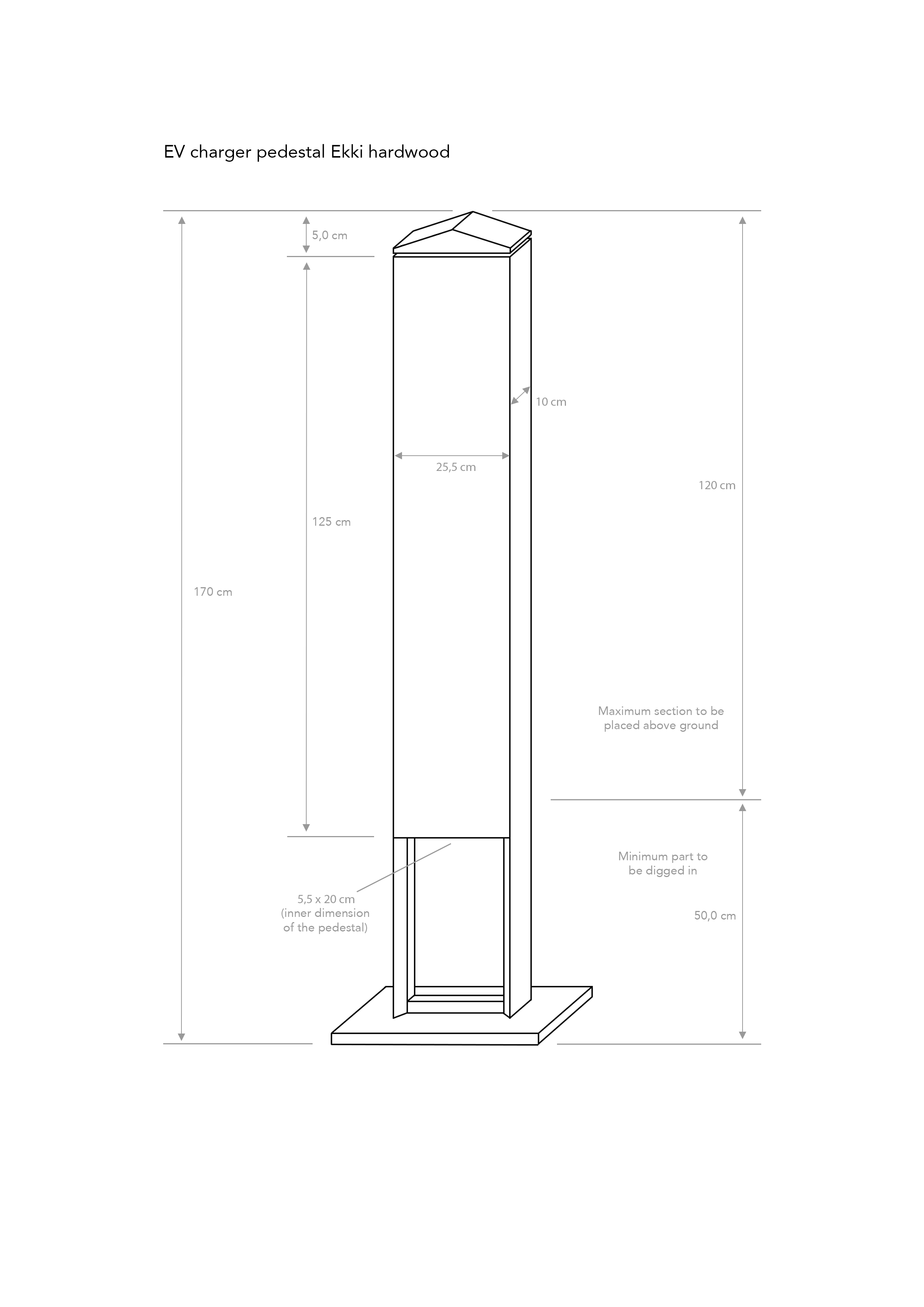 As this column is specially designed for charging stations, it has a maximum height of 120 cm above ground.

The column with fitted floor plate should be buried a good 50 cm below street level.

In loose or sandy soil (without paving), it is advisable to additionally anchor the pedestal by means of quick-set concrete.

Height: 1702 mm

Length: 255 mm

Width: 100 mm

Wall thickness: 22 mm

Internal dimensions: 55 x 200 mm

Weight: 25.5 Kg
When wood is processed, it will want to continue to adapt to its environment. The wood contracts and expands; this is wood's nature. Even azobé hardwood will continue to contract and expand. You should take this into account. There is a chance that checks will appear. Sometimes the size of the checks may worry you, but remember that this is perfectly normal. With continued drying, or higher humidity, the checks may also (partially) disappear again. The checks in the wood will have no impact whatsoever on the structural integrity of the column. The recycled azobé hardwood has served as a mooring post in the Netherlands for many years and has been selected and sawn by our specialists. The effect will therefore already be quite noticeable here.
This hardwood has durability class 1. This again means a lifespan of at least 25 years. Untreated, the column will discolour to a beautiful chocolate brown during a rainstorm and will age over time due to sunlight. Wood remains an organic substance, which is why it is so beautiful.